Photo Video Downloader
---
Do you know which is the most popular Photos, post sharing platform to get traffic? It's Instagram where you can share Photos with a source link to get the audience on your platform. It has become mainstream to engage people from different regions on a specific platform like a website, blog, or any specific account.
What Is Instagram Photo Downloader?
---
It is a specific tool that can bypass Instagram's algorithm to enable you to download Photos. A Instagram Photo downloader has been designed with a simple interface and complex algorithm to complete this task.
As we have mentioned Instagram does not allow direct downloading of Photos by users. It is because of copyright protection of content on this platform. But it has been seen that there are some situations when you just have to get such Photos on your device and use them for further purposes.
How to download Photo from Instagram in 2023?
---
Step 1:Open the Instagram app on your phone or visit the website Instagram.com.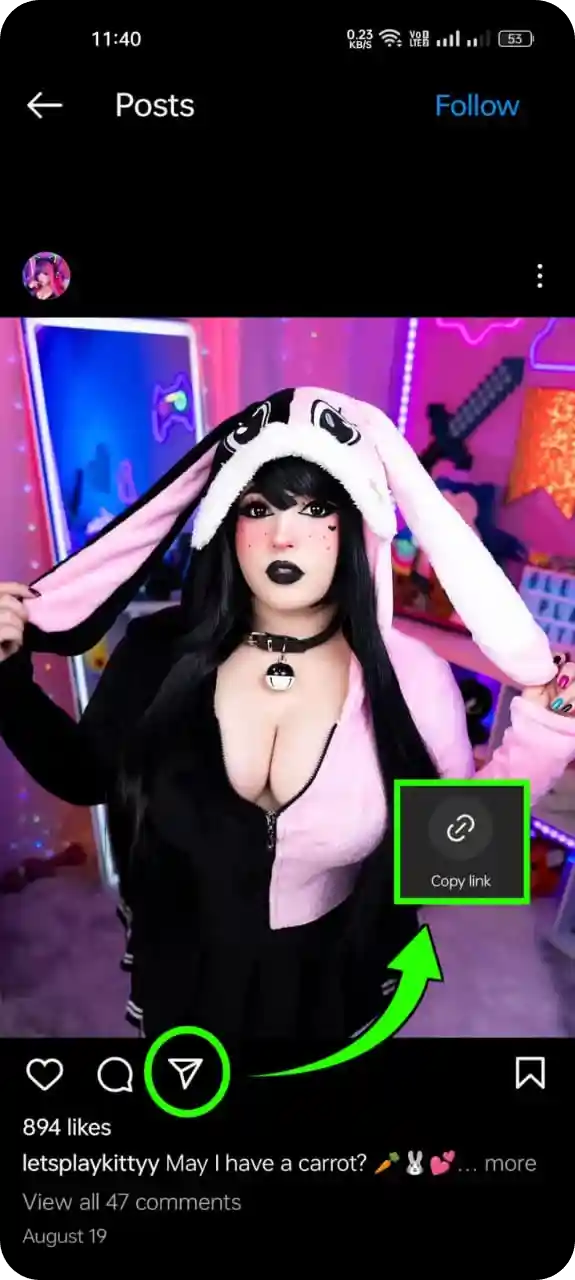 Step 2:Find the Photo you want to download, Click the Share button below the Photo and continue to press the Copy link option.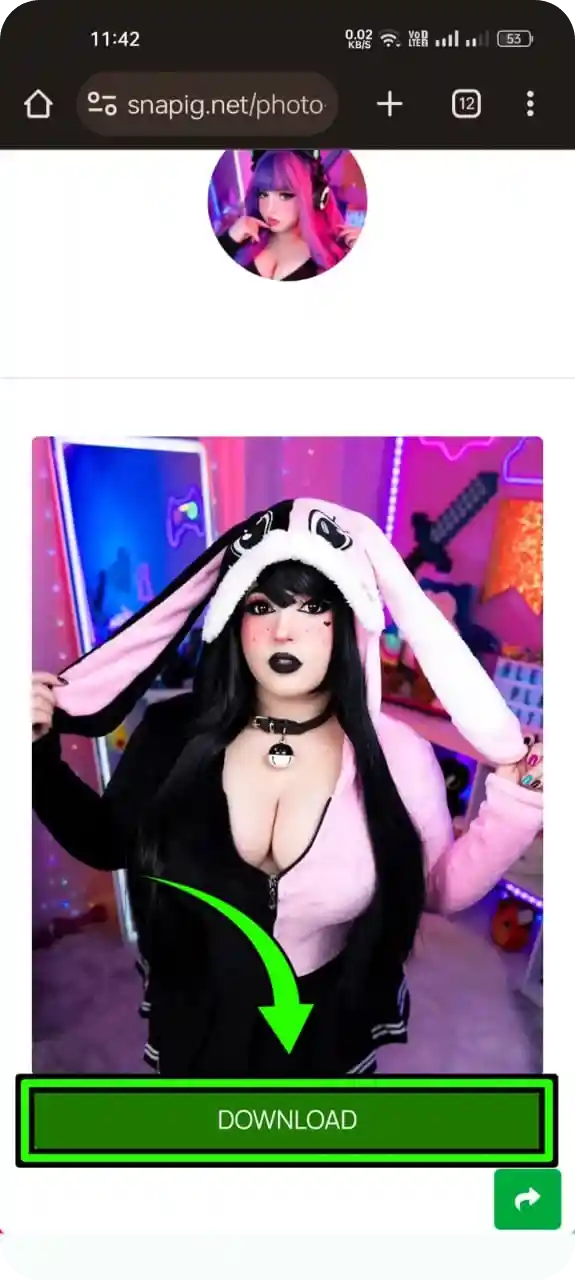 Step 3:Go to the website SnapIG.net and paste the Instagram link you just copied into input box and press the "Get Start" button.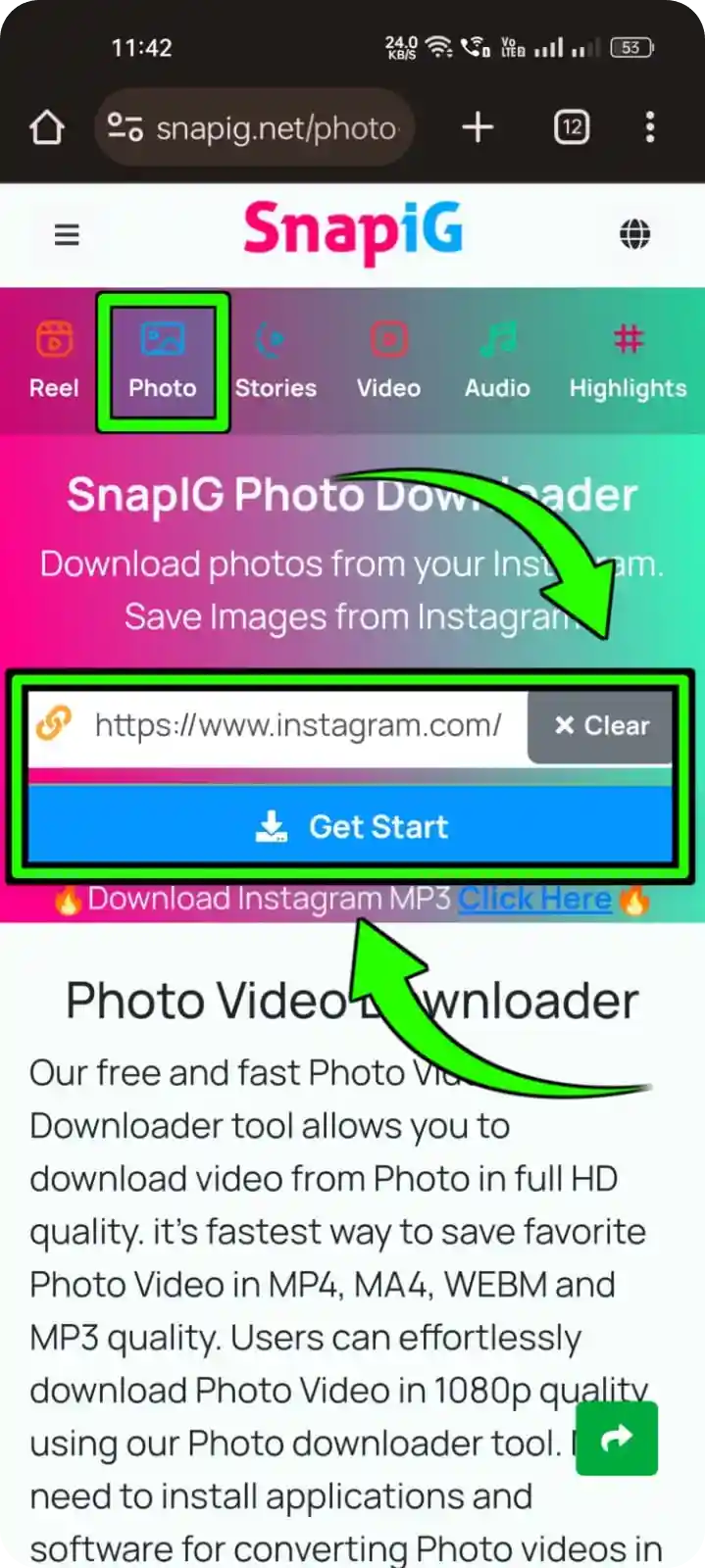 Step 4: JPG format Ready, keep pressing the "Download" button and wait a few seconds for the file to load about your device.
Why Do You Need To Use This Instagram Photo Downloader?
---
There are several Instagram Photo downloaders available on the internet. Are you looking to know why this downloader instead of others? Here below we have described its features that can help you clear all doubts.
Quality Photos:Normally, an Instagram Photo downloader is designed only for downloading purposes. It does not care whether you are getting a high quality Photo or a low quality Photo. By using our Instagram Photo downloader, you will be able to get high quality Photos. It will never lower the quality of the Photo in the downloading process. You can easily get the original resolution and quality of the Photo on your device too.
Simple Interface:This Instagram Photo downloader has been designed with a user-friendly interface. You don't need to learn about any specific method to use this tool and get your desired Photos. We will discuss briefly how to download Photos using this Instagram Photo downloader in the following section.
One-click Download:Snapig Photo downloader tool is designed with a specific concept of one click downloading. It means that you don't need to use different buttons or filters. But it can help you download the Photo with a single click on your computer's screen.
No login/Registration:Unlike other Instagram Photo downloaders, this tool is available to be used freely. Don't need to register your instagram account or provide login credentials for every use. To use this tool, you only have to browse it on your computer and follow the working method to get the Photos.
Limitless Use:In many tools, you must have faced issues like limited usage. It means that you will be restricted from using that tool after a specific number of turns have been reached.
FAQ

About SnapIG Instagram Photo Downloader
---
How does this Instagram Photo Downloader work?
Users input Instagram Photo URLS to initiate downloads. The downloader retrieves and saves the Photo file from Instagram to the user's device. We don't store or record any images files, activities form you.
Is it legal to use a Instagram Photo Downloader?
Using a Instagram Photo Downloader can potentially infringe on copyright and intellectual property rights if not used responsibly. Always ensure you have proper authorization to download and use the Photos you're interested in.
Can i download any Photo from Instagram using a downloader?
No, you should only download Photos for which you have the appropriate rights or licenses. Downloading copyrighted Photos without permission is against copyright laws and can lead to legal consequences.
How do i download Photos responsibly using a Instagram Photo Downloader
To download Photos responsibly: Only download Photos for which you have the right to do so. Respect copyright and intellectual property rights. Always adhere to Instagram's terms of use and guidelines